I interviewed legendary Hollywood producer Robert Evans in 2002 for Venice Magazine, in conjunction with the release of the documentary "The Kid Stays in the Picture," adapted from his iconic autobiography and audiobook. Our chat took place at Woodlawn, Evan's storied estate in Beverly Hills, in his equally famous screening room, which mysteriously burned down a couple years later. Evans was still physically frail, having recently survived a series of strokes, but his mind, his wit and his charm were sharp as ever, with near total recall for people, places and stories. Many, many stories. Here are a few of them.
ROBERT EVANS: THE KID IS ALRIGHT
It's a widely-held belief that the years 1967-76 represent the "golden age" of American cinema. Just look at a few of these titles: Rosemary's Baby, Medium Cool, Romeo and Juliet, True Grit, Catch-22, Love Story, The Godfather I & II, Don't Look Now, Harold and Maude, Chinatown, Shampoo, Marathon Man, to name a few. These films, as well as others from the era, helped reshape our world, redefine us as people, and remain timeless touchstones to which millions born and unborn will return probably for as long as man continues to inhabit this crazy mess of a planet. If you were asked, "Who's responsible for giving life to these masterpieces?" most would respond: "Uh, well, let's see there's Roman Polanski, Haskell Wexler, Franco Zeffirelli, Francis Ford Coppola…" Whoah. Slow down there, Shell Answer Man. You're leaving one guy out. One guy who was responsible for giving all those titles life. One guy who refused to play by the rules. One guy who picked up the dice, had the prettiest dame in the room give them a lucky breath of air, and let them fly, outcome be damned. Hell, he knew it was gonna come up 7. His friends, both real and those who think they are, still call him "The Kid," a moniker bestowed upon him by the legendary Darryl F. Zanuck. Civilians know him as Robert Evans.
Robert Evans was born Robert J. Shapera on June 29, 1930 in New York City, the second son of a dentist who had the first integrated practice in Harlem. The family later adopted the last name Evans as a tribute to their paternal grandmother, whose maiden name was Evan. Young Bobby Evans had a comfortable middle class upbringing, being bitten by the acting bug at an early age, finding work as a radio actor in his early adolescence, already blessed with a distinctive, adult-sounding voice. Forgoing college, Evans joined his older brother Charles in running the elder Evans' highly-successful women's clothing label Evan-Picone, making Robert Evans a millionaire before his 25th birthday.
While visiting the west coast to open Evan-Picone boutiques, Evans was discovered poolside at the Beverly Hills Hotel by Norma Shearer, a silent, and early talkie, screen star and widow of the legendary boy mogul Irving Thalberg. Thinking him perfect to portray her late husband in Fox's Lon Chaney biopic Man of a Thousand Faces (1957), Evans suddenly found himself playing opposite his childhood idol James Cagney, and voted "Most Promising Newcomer" by Photoplay magazine. His next role, as bullfighter Pedro Romero in the screen adaptation of Hemingway's The Sun Also Rises (1957), earned Evans his ubiquitous nickname. So incensed were most of the cast and crew that this young upstart was cast in a pivotal role, a telegram was sent to studio head Darryl F. Zanuck demanding that Evans be replaced. It was signed by Hemingway, Ava Gardner, Tyrone Power and Eddie Albert. Furious, Zanuck flew down to Mexico. Arriving on the set the day a bullfighting scene was being shot, Evans displayed such panache in the sequence, Zanuck, all 5 foot 4 of him, stood up gripping a bullhorn, and intoned: "The kid stays in the picture, and anyone who doesn't like it can quit!" At that moment, Evans realized it was Darryl Zanuck, as opposed to James Cagney, that he wanted to emulate. Thus a moniker, and a legend, was born.
A fair to middling actor by his own admission, Evans' career as a thespian fizzled out as quickly as it started. Evans returned to "being in women's pants," as he likes to joke, running Evan-Picone with brother Charles, but he longed to try his hand at producing movies. In the mid-60's, he saw his chance, optioning a novel by Roderick Thorpe called The Detective, attaching Frank Sinatra to play the lead. This led to a multi-picture development deal at 20th Century Fox. Evans was getting ink again on the entertainment page, most notably, a piece in the New York Times by a young scribe named Peter Bart. The piece caught the eye of Gulf + Western chairman Charles Bluhdorn. Impressed by Evans' moxie, Bluhdorn summoned "the kid" to Gulf + Western's New York offices, offering Evans the position of head of European production for Paramount Pictures, one of G+W's subsidiaries. Paramount, which at that time was "ranked 9th out of 8 studios in town," was in dire straits, most of its investors pressuring the board to sell the lot for a tidy sum to the Jewish cemetery that bordered it. Bluhdorn refused to let this happen, quickly recognizing Evans' solid-gold instincts, and promoting him to head of production back in LA. Evans just as quickly hired Bart to be his right hand man. This was 1966. By 1972, Evans had taken Paramount from the basement to the penthouse: the top studio in town.
Among Evans' legendary accomplishments during his tenure at Paramount was during the production of Marathon Man, Evans was set upon getting Laurence Olivier to play the role of villainous Nazi war criminal Christian Szell. However, because Olivier at the time was riddled with cancer, he wasn't insurable, so Paramount refused to use him. In desperation, Evans called his friends Merle Oberon and David Niven to arrange a meeting with the House of Lords (the upper body of the British parliament). There, he urged them to put pressure on Lloyd's of London to insure Britain's greatest living actor. The ploy succeeded and a frail Olivier started working on the film. In the end, not only did he net an Oscar nomination for Best Supporting Actor, but his cancer also went into remission. Olivier lived on for another 13 years and never stopped working.
Evans' other legacy has been his propensity for surrounding himself with the world's most glamorous and desired women, a list of names that would make Hugh Hefner green with envy. His male friends included Hollywood stalwarts Jack Nicholson and Warren Beatty, statesmen like Henry Kissinger, and behind-the-scenes powerbrokers, like the legendary and secretive Sidney Korshak. Married and divorced five times (his exes including Ali MacGraw, and former Miss America Phyllis George), Evans personified the glamorous movie mogul of the 70's: blessed with the looks and wardrobe of a male model, architect of some of the most groundbreaking movies in history, his Beverly Hills estate, Woodland, the site of glamorous parties, precedent-setting business deals, and storybook romances. By the end of the decade, Robert Evans was approaching the sort of Hollywood omnipotence that people like Steven Spielberg and George Lucas achieved a decade later.
In 1980, however, everything came crashing down. Implicated in a high-profile cocaine bust (even though he was 3,000 miles away when it occurred), Evans name was tarnished almost beyond repair, in spite of never being formally charged with any crime. In addition to a worsening cocaine problem, Evans' biggest professional debacle was the ill-fated film The Cotton Club (1984) a labor of love for Evans, which turned into a literal nightmare. To add insult to injury, the murder of Roy Radin, an acquaintance Evans met as a potential investor in the film, was dubbed "The Cotton Club Murder Case" by the press, further tarnishing his once-spotless image. By the end of the decade, Evans was virtually destitute, a pariah in the town he loved, and the business that he helped shape.
Deciding to pull himself up by the bootstraps in 1990, Evans embarked on what would be his comeback project. The Kid Stays in the Picture was Evans' life story, a Hollywood memoir that not only became an international best-seller, but also became required reading for a new generation of filmmakers and studio execs. The audio version of the warts-and-all tale became even more legendary, with Evans himself reading from the book, and acting out his life. Soon the phone started ringing again. Old pal Stanley Jaffe, now head of production at Paramount, offered Evans a place back at his old home, setting up a production deal. "The Kid" was back in the picture…with another hurdle around the corner.
In 1997, while hosting a party for filmmaker Wes Craven at Woodland, Evans rose to toast his guest, then dropped to the floor, the victim of a massive stroke. Once hospitalized, two more strokes followed, paralyzing the right side of Evans' body. Doctors told him he would be wheelchair-bound for the rest of his life, if he were lucky. Determined to prove them wrong, Evans spent the next two years undergoing painful physical and speech therapy, rebuilding himself and his life.
Meanwhile, the book and audio of The Kid Stays in the Picture just kept growing in popularity. Approached by old pal Graydon Carter, Editor of Vanity Fair, Carter suggested turning Kid into a film, a self-narrated documentary about Evans' surreal, rollercoaster of a life. The result: Nanette Burnstein and Brett Morgen's documentary The Kid Stays in the Picture. A huge hit at this year's Sundance Film Festival, Kid the movie is a fascinating, sad, hilarious, thrilling self-portrait of a man who refuses to be anyone but himself. The Focus Films release is currently playing in LA and New York, with a wider release planned for late Summer and early Fall. As Evans himself said, "I got to have a third act, and it's been the greatest of my life."
Robert Evans sat down with Venice recently in the screening room at Woodland, a place where more Hollywood history has been made than all the boardrooms at Paramount, telling the tale of how he has managed to stay Hollywood's version of the mythical bird the Phoenix, rising up from the ashes that surround him, to be reborn.
What precipitated your writing the book "The Kid Stays In the Picture"?
Robert Evans: I wrote this book not knowing if it would be published or not. I could have cared less. I didn't care if anyone even read it, just one person: my son, Josh. From the time Josh was seven years old until he was 17, his old man went from royalty to infamy. And kids can be very cruel. Unfortunately, royalty fades and infamy stays. The day Josh graduated from high school, the headline on the front page of the L.A. Times read: "Robert Evans Involved in Murder." There all the kids were, dressed in their caps and gowns. Bob Daly was there. Terry Semel was there. Both their kids were graduating as well. And in spite of everything I accomplished in my life, I felt so low. Josh came up to me, hugged and kissed me, and I was just crying. Afterwards we all went to lunch, just me, Josh, and his mom, Ali MacGraw. Then I went home by myself and just cried some more, thinking "Why should Josh have to go through all this shit because of me and my mistakes?" So I wanted to write a book that would tell Josh who his old man really is. You can't lie to a kid. You have to tell the truth. So I disappeared for four years while I wrote this book. And it wasn't cathartic at all. It was painful to write about your fuck-ups, because then you've got to rewrite them and rewrite them and rewrite them. This book was the only legacy I could leave to him. I had no money. I lost my house. It was the most humble, purest endeavor of my life.
One could also argue that it's been the most successful endeavor of your life.
Absolutely, more so than any film I ever produced. When I was finished with the book, every publisher wanted it, and it became an international bestseller. It also got me the best reviews of my life. Then when I did the audio version, it became a bestseller as well. One day (Vanity Fair Publisher) Graydon Carter came to me and said he wanted to make a film of it. I said 'Graydon, you can't make a film of an audio recording.' (laughs) 'I don't want actors playing all these real people from my life. I don't want George Hamilton playing me!' (laughs) He said "We'll figure a way of doing it." Graydon spent two-and-a-half years getting releases from people who we never thought we'd get releases from: Jack Nicholson, Dustin Hoffman, Warren Beatty…out of 256 releases which we needed, we got 255! So it took two and a half years to make the picture. When I went to the screening at Sundance earlier this year, it was the first time I saw it all put together. It was a hallucinatory experience for me because it hurt. It hurt bad. When the picture was over, I got a 15 minutes standing ovation. I'd never had a two-minute standing ovation in my life. All this from a book I wrote for my kid. And the interesting thing is we've never discussed the book. We've never discussed the audio. We've never discussed the movie. He knows and I know and he's the closest friend I have.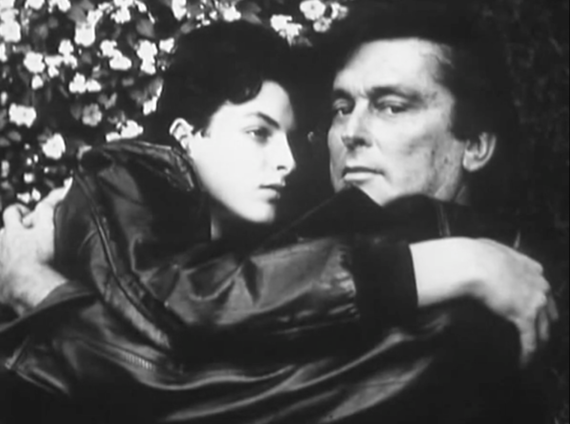 Robert Evans and son Josh Evans.
There's a very touching note you wrote to Josh that's in the book.
Yeah. Would you like me to read it?
Sure.
(Reading from the book) "Hey Runt! Spent over three years writing this. It hurt. Hurt bad. Reliving your fuckups ain't easy. Then writing 'em and rewriting 'em, that's the killer. Did it for you. Yeah you, you little runt. You deserve it! I wouldn't be today if it weren't for you. I know it. You know it. Fuck it! I ain't ashamed. Why keep it a secret? Knew the pain you were goin' through, too. Showed all over your face. Them pimples you thought of squeezin'? That's how many sleeping pills I thought of takin'. You pulled one hell of a hat trick, kid. That tightrope, you balanced it like a pro. Your strength stopped my fall. We've never talked about it, so I'm writin' it. Set the record straight. Talkin' disappears. That's why it's on paper. For better or worse, at least you'll know who your ole man really is. How much he loves you. It's all that matters. Pop."
That's a beautiful letter.
Well. I wanted to show him my life, warts and all. This is my legacy to him. And by doing that, it opened up doors that changed my entire life. It's funny, not long ago I was completely washed up. Then to make matters worse, I had a stroke. I was half paralyzed. I had to learn how to walk again, talk again, hold a fork again. My right side was paralyzed, including half my tongue. But for some reason, the guy upstairs gave me a second pass. I heard the fat lady sing, literally. I heard Ella Fitzgerald singing It's a Wonderful World. I saw the white light, then I passed out. When I woke up in the hospital, I thought I was in heaven at first. But when I really regained consciousness, I found myself more like Quasimodo than myself. I really felt like a freak. I took speech therapy for three years to learn how to use my tongue again. The real pain was the physical therapy, though. I used to be a pretty damn good tennis player, and I couldn't even hold onto a ball. It was tough, but I did it because I wanted to prove them doctors wrong! I've never lived by the rules. I ain't corporate. I'm not a good executive and I'm a lousy businessman, and I've never kept the hours that other studio heads did. I learned t his from Zanuck: when he ran 20th Century Fox, he showed up to the studio at 2 o'clock and left at midnight. So when I ran Paramount, I never had breakfast meetings. I can't help it. I'm just not good in the morning. I'd show up at 11:30 and work until midnight. Everyone resented it, the idea being that you have to show up at 9. I'm not a 9-to-5 guy.
You always did most of your business from home, right?
More Hollywood history was made in my screening room during the late 60's and 70's than anywhere else. Chinatown was born here.The Godfather was born here. Francis Coppola and I practically fought WW III here during that time. Dustin Hoffman and Larry Olivier both lived here during Marathon Man. Olivier lived here for six months. Larry Olivier couldn't get a job at the time, because he had cancer and no one would insure him. He was destitute. He couldn't afford to send his son to college. Through my good friends David Niven and Merle Oberon, I was able to go before the House of Lords, and persuade them to get insurance for the greatest actor of our time through Lloyd's of London. Olivier threw his arms around when it was over and said "You saved my life, old boy." Not long after that, his cancer went into remission and he was able to live his last 13 years doing some of the most brilliant work of his career. That's one of the proudest moments my life. It's funny, I've led a very blessed and a very cursed life.
I think you've had more extreme ups and downs than almost anyone in Hollywood history.
I've touched magic as much as anyone, and I've been scandalous as much as anyone. And the strange thing is, all my "scandals" were non-truths. I've done a lot of wrong things in my life, but the two things that really brought me infamy: the coke bust and the so-called "Cotton Club murder" of Roy Raydin, I had nothing to do with. How can I get busted for something when I'm 3000 miles away? My nose ain't that long. (laughs) But, I get ink. If you live by the sword, you die by the sword. People made careers over my carcass. I'm afraid to walk past the Hustler store on Sunset, forget about going in it! Someone takes a picture, boom! There I am on the front page: "Bob Evans, porn fiend!" (laughs) That's why I rarely leave my house anymore. I'd get in too much trouble! (laughs)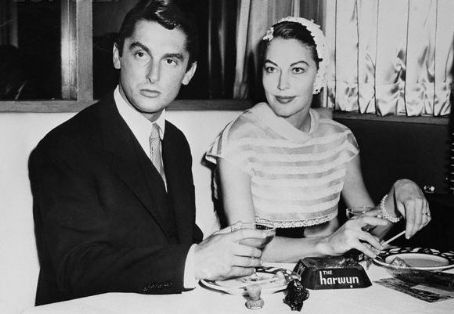 Out on the town with Ava Gardner, circa mid-'50s.
Yeah, but you were fodder for the scandal sheets way before your tenure at Paramount.
Oh yeah, going back to when I was dating Ava Gardner and Lana Turner at the same time, in the mid '50s. I was getting headlines before most of today's studio executives were even born. I have clippings of me with Terry Moore while she was secretly dating Howard Hughes.
Not bad!
In my teens, I was being kept by four women. I always had a knack for getting myself in trouble! I guess you could say that I've been leading a high profile, sometimes notorious existence for a long time. That's what Jack Nicholson said I should call my book: "Notorious"! (laughs)
With John Frankenheimer on the set of Black Sunday, 1976.
You've worked with many amazing directors in your career. In 1977, you produced Black Sunday, which was directed by John Frankenheimer, who recently passed. What are your memories of working with him?
John, to me, is one of the best directors I ever worked with. He's very unappreciated, too, I think. John went through a very bad period of alcoholism, which made him more than a few enemies. But I loved working with him, thought he was a terrific guy. Black Sunday turned out to be a terrific picture, but one of the big disappointments of my life. When that picture came out, they thought it would do more business than Jaws, that's how big they thought it would be. I turned down an offer of $6.6 million to buy my points in it. I owned 57% of the film. You know how much business it wound up doing? Nothing. It tanked, due to a lot of factors. First, Arab groups claimed we were anti-Arab because the villains in the piece were Arab terrorists. Jewish groups claimed we were anti-Semitic because we tried to explain why someone would join a movement like Black September. I wound up spending a fortune of my own money to hire private security to protect myself because I was receiving death threats. Then, a few months before the film came out, Universal released Two Minute Warning, a film about a sniper in the LA Coliseum during a football game. Even though Two Minute Warning got awful reviews and Black Sunday got raves, and the two films couldn't have been more different, people associated the two and stayed away. You just never know.
In almost every show business biography and autobiography I've read, their subjects are portrayed having one amazing success after another, almost to the point of omnipotence, only to self-destruct just when things seem like they're perfect. What causes that tendency, do you think?
Gambling. Most successful filmmakers and producers are gamblers at heart. I mean, literally. Darryl Zanuck had such a bad problem he had to borrow money from Howard Hughes. And let's face it: what's a bigger risk in life than making films? And when you gamble, you don't always win. David O. Selznick died broke. I wanted to be Selznick, that's why I did The Cotton Club, and wanted to own it. But I wasn't as smart as he was.
You write so well, it's surprising that you didn't have a career as a writer at one time.
Well, I co-wrote more scripts than you can possibly imagine, although I never took credit for them and didn't want to.
But you are working on a sequel to The Kid Stays in the Picture.
Yes, it's called The Fat Lady Sang. I open it with my stroke, when I was hosting a party for Wes Craven. I'm about halfway through it now. It's about my life post-Kid, post-stroke, told in flashbacks, also a lot of things from my earlier life that weren't covered in Kid. It's all about the third act of my life that I didn't have before. I'll tell you, I can't believe I'm here talking with you now. I should be dead. The guy upstairs is keeping me here a little longer to do something else. I've also got a new picture in production, called How to Lose a Guy in 10 Days, starring Kate Hudson and Matthew McConaughey. It's shooting in New York and Toronto.
You seem to be completely recovered from the stroke. If I didn't know what had happened, I'd never have guessed.
I had three, actually. One here and two in the hospital. I'm about 90% recovered, I'd say. The three most important things in my life before the stroke were the three S's: sun, sex and sports. I can't take the sun anymore because of all the pills I've got to take. I used to be a good tennis player. Now I'm in the paraplegic league, but I can play. Sex wise, let's just say I'm not as dexterous as I was before, but I've got my libido at least. Sex will always be important to me. It always has been. That's why none of my marriages lasted. (laughs)
I think any man who was in your position would have had a hard time being monogamous.
I haven't been since I was 17. That's why Frank Sinatra wanted to meet me so badly, when he saw me with Lana and Ava at the same time! He was very curious, to say the least. I actually didn't dig Lana that much because she was a terrible alcoholic, in public places, too. She was a very unhappy lady, as was Ava. Terrible alcoholic. Very unhappy with her life. In fact, most actresses I've known are very unhappy with their lives.
Let's talk about your days at Paramount. You came there at such a unique time. You even convinced the board to give you complete autonomy in running the studio.
Yeah, but that didn't happen right away. I thought I was about to be fired. So I had Mike Nichols shoot this 40 minute film for me, which I presented to the unsmiling, 18 member board of Gulf and Western (Paramount's then-owner) in New York, convincing them at Paramount would be the No. 1 studio in town after the release of Love Story and The Godfather. I signed resignation papers when I arrived in the office, saying they could keep the $300,000 it would cost them to buy out the rest of my contract if they'd just watch this 40 minute film. They agreed. After I screened it, Charlie Bluhdorn, my boss, called me into his office and told me to go back to work. I said "But Charlie, I resigned." He said "Whaddya want, more money?" I said "I don't want another dime from you. What I want is to be in a position were not a single one of those 18 motherfuckers can come on my lot, interfere with my films, or bother me in any way. I want complete control." He says "Evans, are you crazy? I can't do that? It's against all corporate rules." I said "OK, I'm going. Goodbye." He said "Get back here!" So Charlie goes back in before the board. After an hour, he comes back. "Okay Evans, you got what you want. It's your shop. You better have a lotta mazel, Evans! Now get to work!" So that's how I got my autonomy. I wasn't a fence straddler. I gambled with my 300 Gs and that's what took Paramount to 140 nominations and that's what made history. What do you think most studios would have said to me if I went to them and said "I want to make the story of 18-year-old boy who falls in love with an 80-year-old woman, to be directed by an acid head (Hal Ashby) and written by a guy who cleans swimming pools (Colin Higgins)"? They'd throw it out the window! (laughs) And that's how we touched magic.
That's one of my favorite films, Harold and Maude.
I show it every Valentine's Day! It's such a romantic film.
Tell us about Hal Ashby.
I loved Hal. A sweet, sweet man, and a great director. He died way too early. He was a brilliant film editor and had a good reputation for that, but his first picture (The Landlord) hadn't even come out yet when we were prepping Harold and Maude. Colin Higgins worked for (producer) Eddie Lewis as a pool boy! I think it's a classic that'll last forever. Every film that the so-called "suits" didn't want to make were all hits, and the pictures that they did want to make were all flops. No one wanted to make The Godfather. With Chinatown, they begged me "It's Chinese, nobody'll understand it!" They didn't want to release it. They didn't understand it. Then after it came out, after all the accolades, suddenly they understood it.
You mentioned how much the studio world has changed since you began in the mid-60s. Could Bob Evans happen today, or was it great timing: the right man for the job at the right time?
It could happen. I've always been fortunate enough to meet people who have been mentors me. Some people didn't. Some people did. Fortunately, most people who did were at the top. I think it could be done again. Joe Roth has done it, very successfully. I didn't much earlier age, though. I'm a huge gambler. My attitude always was if I get fired, I get fired. Big deal. So I took chances. I did things people said couldn't be done. If someone came into my office and said "I've got a great idea for this picture. It'll be so commercial and everyone will love it!" I'd say "Get outta here!" But if someone came in my office and said "I've got a really weird story to tell you. It may not work, but I think it's really terrific and I'm in love with it." That's what happened with a film called Don't Look Now (Nicolas Roeg, 1973). Nic Roeg went to everyone in town. No one wanted to make it. I did. Now it's regarded as a classic. If you pick one hit out of three, you doing great. If a ballplayer bats one in three, he's a star. If you hit a homer or two, you're a big star. I always went by the percentages. With Roman Polanski, everybody told me I was crazy to hire this weird Polack to direct this high-profile movie (Rosemary's Baby). I said "That's why I'm doing it: it's crazy!" You've got to risk to do something different, something original. If you don't do what's original, all you care about is keeping your job. Rules were made to be broken. Break them!
That's one thing about this new generation of directors that've been pulled from commercials and music videos: they're not in the filmmaking business, they're in the advertising business and at the end of the day: they turn in these $150 million mouthwash ads.
Exactly. Everything is MTV-ized. There's no scenes. There's no texture. It's cut, cut, cut! No one has the patience to sit and listen. You gotta have boom, boom, boom! Gotta have shoot 'em up! Gotta have a happy ending! Know what? I don't believe in happy endings! I think they ruin things. I don't believe in the boy getting the girl in the end. I believe in unrequited love. There's nothing more mesmerizing than unrequited love. And real. Waterloo Bridge, Love Story, Chinatown.
Best last line of a movie ever, in Chinatown!
"Forget it Jake, it's Chinatown." Yeah, it's a great one.
One thing that your book and the film really drive home is how mercurial relationships in Hollywood are. It would drive most people mad. How do you keep your sanity in that environment?
I'll tell you how: I keep my circle very small: Jack Nicholson, Warren Beatty, Sumner Redstone, Peter Bart, a few others. When I was at my lowest, I didn't lose my friendships.
Now you've become a hero and mentor to a new generation of young actors and filmmakers. Track record aside, I think it must be your candor that draws them to you.
People ask me "What's the most important thing in your life." I always answer "It has nothing to do with morality, it's always telling the truth. Because then you never have to remember what you've said." That way I can walk into any room at any time, and just tell it like it is. People may not like you for it, but there's an asterisk to it: omission ain't lying. (laughs)
Sidney Korshak, "The Godfather."
The most fascinating character in your book was your late attorney and mentor Sidney Korshak.
I'm working with Billy Friedkin right now on the Korshak story. He was the ultimate power, my godfather. I spent every day with him for 40 years. A big bear of a guy, six foot five, former boxer. He was totally legitimate, never had a misdemeanor against him, but was the most powerful man I ever met. Seymour Hersh spent three years writing an article for The New York Times on Sidney and in three years, could find nothing out about him! Nothing!
And there was the secret of his power: anonymity. Prior to reading your book, I'd never heard of him.
Exactly.
Do you think your opposite profile, a very high one, is what made you such an easy target?
Yeah, absolutely.
Another lesson I learned in the book is to not be shy about approaching people, if you want to be in show biz.
And the bigger the person, the more approachable they are! I could reach George W. Bush easier on the phone than I could a junior agent at William Morris.
It sounds like The Cotton Club was the biggest professional disappointment of your life.
It was the worst single mistake I ever made in my life. I wanted it to be The Godfather with music. It took up six years of my life. I did more research on that than any picture I've ever done. Originally I was going to produce and direct it, and dedicate it to my late father, who had the first integrated dental practice in Harlem: "For you Pop, wherever you are. Your son, Bobby." We even had a great poster drawn up for it. It read: "Its violence started the nation. Its music startled the world." It was the single worst experience of my entire life. In 1979, when I began work on the project, I was worth $11 million. In 1989, I was worth $37.00. That was the 80's for me. Not a fun time.
I've heard rumors that a longer version was going to be released.
It should be. Eleven musical numbers were cut out. I think it was done on purpose. All those guys that put the money up lost a fortune. I put my house up, too. But no, no, I doubt it. I think Francis had a score to settle with me after The Godfather. He was resentful, feeling I took too much credit for the film.
You'd think he'd be grateful to you.
No. No. (long pause) Francis is the most charming, seductive man I've ever met. I think he's a direct descendent of Prince Machiavelli. Once you leave his kitchen, you're enamored by him. (laughs) He's so talented, so brilliant, and a dreamer. And I think rather self-destructive. We've only spoken once since that time, at the 25th anniversary screening of The Godfather. We all went down to the front of the theater afterwards, to tremendous applause. Francis started to pass me. Then he stopped, put his arms around me and whispered in my ear "We did something right." That about sums it up.
How do you keep rising from the ashes like the Phoenix? What's your secret?
Very simple: I wanna stay in the picture, because once you're outta the picture, you're out.
— This feed and its contents are the property of The Huffington Post, and use is subject to our terms. It may be used for personal consumption, but may not be distributed on a website.
The Source Article