In line with yesterday's announcement, Apple's redesigned Mac Pro is now available for order through the company's online stores. The Mac Pro currently ships by December 30, though upgraded versions list a non-specific "January" shipping estimate.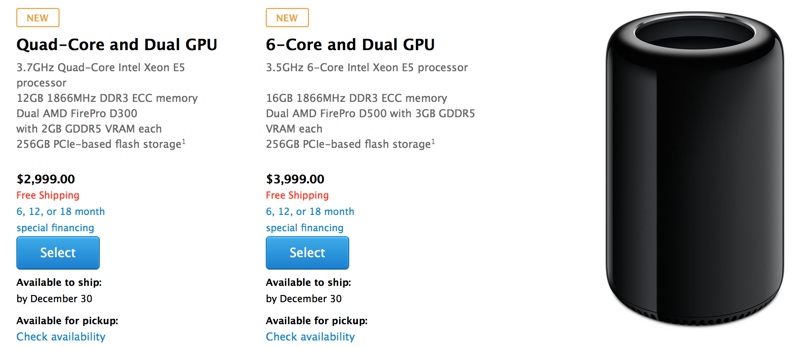 The new Mac Pro is available in two stock configurations, starting with a $2999 model equipped with a 3.7 GHz quad-core Intel Xeon E5 processor, 12 GB of RAM, dual AMD FirePro D300 graphics chips, and 256 GB of flash storage. A higher-level $3999 model bumps the specs to a 3.5 GHz 6-core Intel Xeon E5 processor, 16 GB of RAM, and dual AMD FirePro D500 graphics. Additional build-to-order options are available for up to a 12-core processor, 64 GB of RAM, dual AMD FirePro D700 graphics, and 1 TB of flash storage.
Build-to-Order Upgrade options for the Mac Pro beyond the high-end 6-core stock configuration include the following:
CPU (Stock: 3.5GHz 6-Core Intel Xeon E5)
– 3.0GHz 8-core: +$1500
– 2.7GHz 12-core: +$3000
Graphics (Stock: Dual AMD FirePro D500 with 3GB GDDR5)
– Dual AMD FirePro D700 with 6 GB GDDR5: +$600
RAM (Stock: 16GB 1866MHz DDR3 ECC – 4x4GB)
– 32GB (4x8GB): +$400
– 64GB (4x16GB): +$1200
Flash Storage (Stock: 256GB PCIe-based)
– 512GB: +$300
– 1TB: +$800
The Mac Pro also includes options to add on both Apple's 27-inch Thunderbolt Display and Sharp's 32-inch 4K Display that Apple temporarily began offering in Europe in early December. The Sharp display is available for $3595.
A fully loaded 12-core Mac Pro with 64GB of RAM, dual AMD FirePro D700 GPUs and 1TB of PCI-e based flash storage retails for $9599 in the United States.