Now that the iPad Air 2 is being delivered to customers and showing up in retail Apple Stores, iFixit has acquired one of the new tablets and has begun one of its traditional teardowns to see just what's inside Apple's thinner, more powerful iPad Air 2.
According to iFixit, the "gapless" front panel is more rigid than previous iPad models, and feels sturdier when it's being pried up with the company's proprietary iOpener. As with all iPads, the glued down display is the only access point to the tablet.
As noted in reviews, the iPad Air 2 has a smaller battery than the original iPad Air, coming in at 27.62 Whr and 7,340 mAh. The first generation tablet had a 8,827 mAh/32.9 Whr battery life.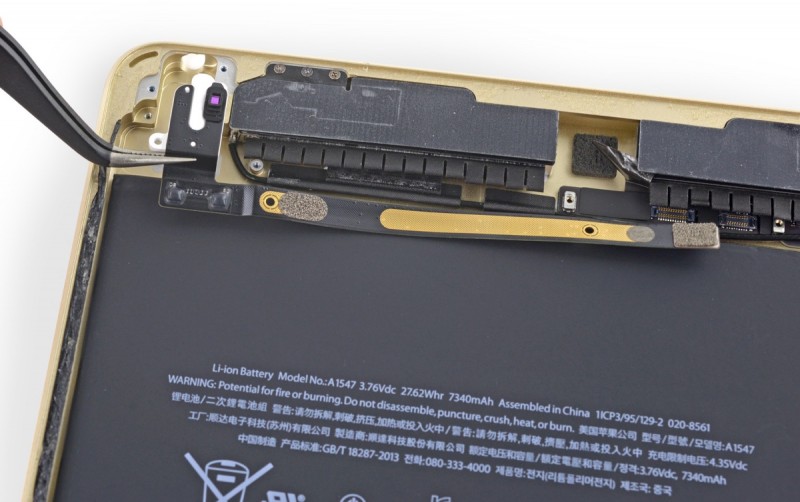 iFixit's teardown confirms the existence of both the more powerful A8X processor and 2GB of Elpida F8164A3MD RAM. The iPad Air 2's logic board includes two separate 1GB RAM chips located in on either side of the A8X processor.


The iPad Air 2's Touch ID sensor cable appears to be very similar to the sensor cable found in the new iPhones, and the Touch ID sensor itself was made by NXP Semiconductors. The 8-megapixel camera is similar to the camera in the iPhone 6 and 6 Plus as well, but they are not identical. The iPad Air 2's ambient light sensor has been split into two sensors, with one now located on the headphone jack, possibly for improved accuracy.
Along with the repositioning of several internal microphone and camera components, the Wi-Fi model's antennas, previously located at the bottom of the tablet, have been moved to the top of the iPad.
Apple's iPad Air 2 is currently available for order online, with new orders shipping in two to four days. Wi-Fi only models are also available in retail stores as of today, with Wi-Fi + Cellular models coming at a later date. Prices for the new iPad Air 2 start at $499.
iFixit's teardown is still ongoing and we will add any additional information here.